Nordic Camping Råå Vallar/Camping
Camping | Nordic Camping Råå Vallar in Helsingborg is perfectly situated by the sea, with views of Denmark. This is a fully-serviced camping site, with restaurant, fast-food takeaway and convenience store. It has its own 50-metre swimming pool, as well as a childrens paddling pool. Modern static caravans available for hire.
The carefully tended camping area features grass pitches. The area is criss-crossed by asphalt roads. There are three price levels (see area map), and most of the pitches have electric hook-ups. The site benefits from three service buildings.

Within easy distance of all amenities. Sports centre 2 km. Golf 5 km. Marina, slipway and boat hire 2 km. Råa town centre 500 m, Helsingborg 5 km. Doctors surgery 100 m. Sandy beach 50 m. Swimming pools, restaurant, fast-food takeaway, shop, kiosk within the area. Traditional fishing village.
Compare "Nordic Camping Råå Vallar/Camping" with similar alternatives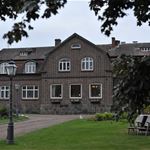 Welcome to a wonderful countryside environment on the Kulla peninsula. STF Hostel Jonstorp/Kullabygden is the perfect place for everything from individual accommodation to business conferences, family get-togethers, training courses and sports groups. Here you can meet people and enjoy yourselves all year round. STF Hostel Jonstorp is a good alternative for "Hyr Hela Huset" (rent a hostel).
Perched on a cliff 70 metres above sea level at the tip of Kullaberg, with an unobstructed bird's-eye view of Kattegatt, you'll find the aptly named "Falknästet" (falcon's nest), one of Sweden's most exclusive hotel rooms. Stay in a unique room where you sleep in a round bed suspended from the ceiling, ensuring spectecular views of the sunset.